6 Different Venue Locations Across The UK
We provide exclusive venue hire for up to 5,000 people inclusive of accommodation and all of the fun our leisure facilities have to offer. All of our parks are conveniently located next to the beach so there is always an excuse to make waves at your event. Our indoor venues take away the "weather permitting" aspect of your planning whilst still offering the option of outdoor space should you desire. Take ownership and let your imagination run wild – there are no limitations on creativity.
YOU THINK IT, WE CAN ACHIEVE IT!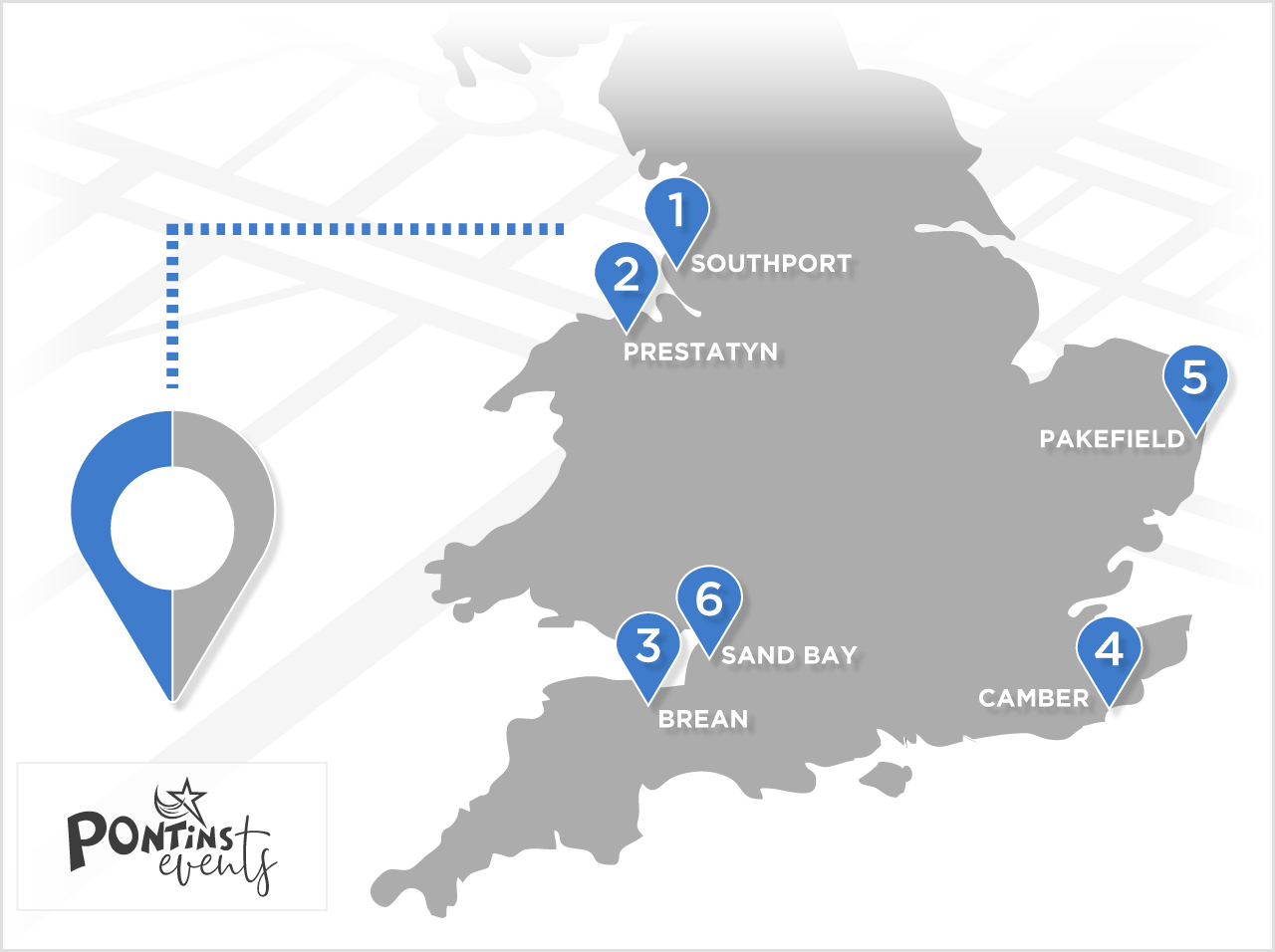 Many Different Events
The list below shows just a small selection of the types of events that we have had the pleasure of hosting over the years… however, we pride ourselves on being able to give you what you want, so if you have a different kind of event that you wish to discuss then don't hesitate to Contact Us to discuss your requirements in more detail.
Music Events
When it comes to staging, sound and lighting our venue spaces are the perfect platform for any music event. Combined with full licencing and a designated technician we allow you to concentrate less on the 'red tape' and more on your red hot line up!
The beauty of our large entertainment spaces is that they are all under one roof, removing the weather permitting risks and providing peace of mind that your event will run successfully come rain or shine.
Along side this, we offer total venue and accommodation exclusivity, inclusive of fully staffed food and leisure facilities.
Dance Events
We have been running successful dance events in our parks for decades, this gives us a real understanding of the essentials for any dance based festivals, competitions or socials. We know the importance of creating a fun and safe environment for your guests, enabling new memories and friendships to be made.
All of our parks have perfectly suited floor spaces, with the option to extend them should you need additional space. Partnered with adequate seating for your competitors and spectators, Pontins becomes the perfect venue for all things dance.
We also appreciate that attendees can travel long distances for such events, so our on-site accommodation means total inclusivity for all. Allowing your guests to arrive, un pack and enjoy what the park and your event has to offer.
Religious Events
We are very proud of our partnerships with multiple faith and religious organisations, and the exclusive aspect of our site hire gives you the freedom to transform the park, creating dedicated spaces for prayer, worship and celebration.
As a residential park there are no limitations on access to the park facilitates, this can reflect in your event programming.
We understand the complexity of your needs and beliefs and we are respectful of this. Our dedicated event specialists will always be on hand to assist and ensure that your organisations requirements are met.
Sports / Recreational Events
Our UK parks are the ideal playground for any sporting, fitness or recreational sporting events. Sport in any capacity isn't just about the physical but also the social.
Unwind from the days excursions by making use of our leisure and amusement facilities, then kick back and enjoy a show provided by our world famous bluecoat entertainment teams!
With accommodation to house all of the team – we can ensure total integration creating a stronger team bond and a more enjoyable experience.
Corporate Events
We are fast becoming a venue of choice for corporate events, product launches, seminars and even film festivals.
Should you need an intimate team building experience or a formal awards evening, our venues are adaptable to your requirements. We want to understand your vision and help you achieve it.
Each package is tailored to the individual needs of the client and the event that you plan to host, this is all supported by an event specialist to oversee the project and provide the support and advice that you require.
Stay Connected With Pontins Events
No two events are ever the same so we tailor our packages to suit the individual needs of each organiser and your requirements. To discuss the finer details of what your event needs you can contact a member of the team and we will assist you as required.